Business security is very important, it can prevent data from being breached on a regular basis. Whether your business is small or large, you'll need to implement safety measures, which will also provide a safe working environment for your employees. Depending on the size of your business, and how much budget you may have, will determine which level of security is applied to your business. Alarm systems and features normally act as a deterrent for thieves and burglars. We have compiled a list of measures you may wish to use to keep those unwanted burglars and thieves away, continue reading to find out more.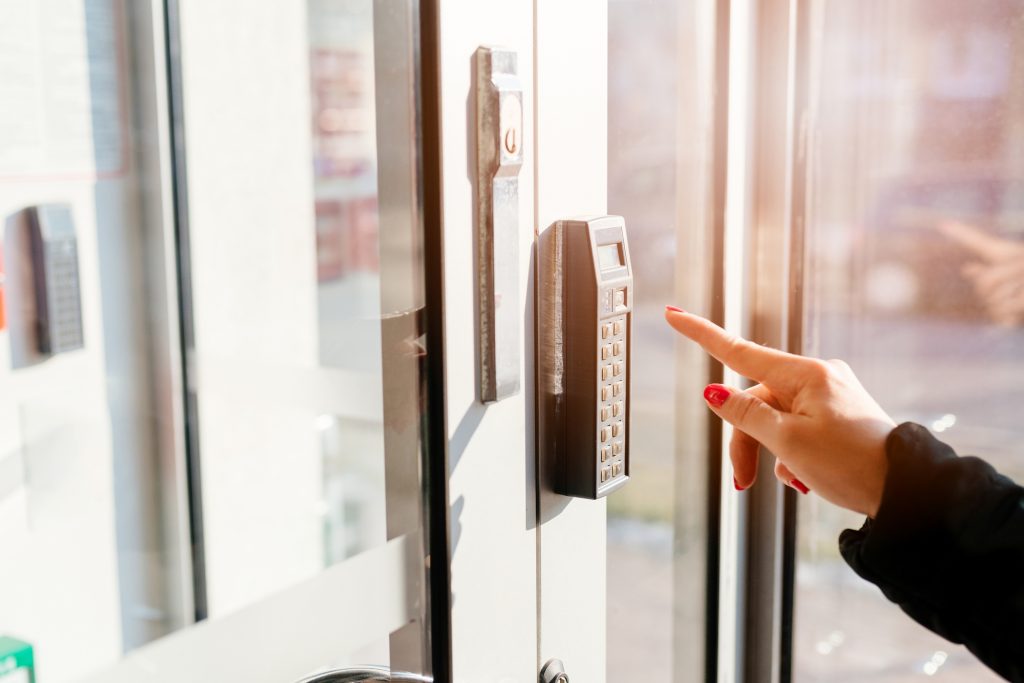 1. Access control
Access control systems allow a business to control who has access to enter and leave their business, limiting the risk of unwanted intruders and visitors. These systems are fairly simple to operate, and can also help monitor who's on the property, which will help in the case of a fire and ensuring everyone is in a safe space.
2. Install CCTV and monitoring systems
CCTV cameras and surveillance are an irreplaceable security measure for any business. They can be placed both indoors and outdoors to meet all your needs, filming both in black and white, as well as colour, and to top it all of they can record high-quality imagery both in the day and at night. The CCTV camera is also a great preventive measure, meaning they're working to deter any intruders before potential issues arise.
What's the difference between CCTV and surveillance cameras?
CCTV saves the footage to a private storage location, whereas, the surveillance camera saves the footage to a cloud and then is accessible on a tablet or smartphone. This enables you to watch and keep an eye on your property no matter where you are.
3. An alarm system
Alarm systems have been around for some time, but people still tend to overlook their effectiveness. When triggered the alarm system begins to beep loudly, alarming people around and scaring the thief away. Some systems can also alert you and the police. These burglar alarms are often silent, which informs the police but not the burglar. This way the intruder doesn't know the police are actually on their way.
4. Make sure that the systems are all maintained properly  
We understand that equipment can become damaged or even broken, it's important to have your security equipment serviced often. This will prevent the security systems from failing without you realising until it's too late. When the systems start to become worn or slow down, it's important you employ an expert to come and take a look.
5. Double check your locks before locking up
It's easy to forget to lock your doors after a long day at work. Make it a habit to always double check if you've locked your doors before leaving. You may even wish to set a reminder on your phone, this can ensure that you remember to secure your building when it's not in use.
We hope that this blog has been helpful and assisted you in understanding all the benefits of having security features in and around business premises. If you have any questions or queries,  please don't hesitate to give us a call today on 0808 168 1233 or head over to our contact page to get in touch.