Security should always be at the top of your agenda. Keeping your business safe and secure may seem like a difficult chore.
In this blog, we will explain what a door entry system is, how it works and the benefits of an entry system.
In the past, door entry systems used the old audio-only systems that we still see in a lot of apartment complexes.
The way the system used to work was that when a guest pressed a button on a panel at the door it would call the phone of the resident or front desk of a business.
When the phone was picked up they would be connected as if it was a regular phone call and if you wanted to allow access you'd press a button on the phone or a dedicated button to open the gate/ door.
Now we have automated systems that can open doors with no user intervention needed.
Types of Door Entry Systems
There are many different types of entry systems:
1. Mechanical locks
2. Fingerprint access
3. Keypad/Number combination locks
4. Card access
Mechanical Locks
This type of entry system has been the main method of locking and securing doors for many years now. Though the key and lock method are secure it does have many downfalls.
Pros:
Can't be hacked
Isn't susceptible to exploits
Easily available
Can be installed relatively easily
Proven track record
Doesn't require power
Cons:
They're expensive. If you need to give access to multiple people, the cost of getting that many keys cut can start to get expensive
If someone loses the key anyone can use it to gain access
If someone clones a key, you must change all the locks the key works with
The locks can be picked within minutes
You must have multiple keys for different locks
Who's this for?
These locks have been around for a long time, the earliest lock to be found was in  4000 B.C. These types of locks are a standard today, they're installed on every front door. Every day people trust these locks to keep their family and property safe. These locks are good for most small businesses and some big businesses.
Keypad Access
Keypad locks are simple and cheap to install, they're great for security as you won't need to get keys cut and the passcodes can be changed anytime.
Pros:
It doesn't cost to give someone access
You can change codes anytime
Takes skill to bypass the lock
Cons:
Codes can be forgotten and can be hard to remember
People can see the code getting put in
Doesn't work in a power cut
Who's this for?
This type of access control is great for a business that needs security but doesn't have the budget for a full access control system. These locks can be used on certain doors that need more protection than others or it can be used on all your businesses doors to maximise security.
Fingerprint Access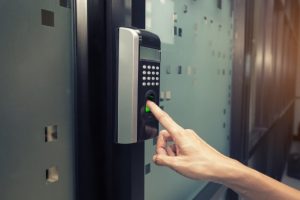 This is a very secure method of opening a lock as it solves a lot of the downsides of using a mechanical lock.
Pros:
You can allow access to different locks using just a finger
You can revoke access to people who don't need it
Adding people to the system is fast and free
It takes skill and extensive knowledge to hack this type of lock
Can track where people have been for security reasons
Can be set to only allow access at certain times
Cons:
They can't be used without power
Can be susceptible to exploits
Can be difficult to set up
Who's this for?
Fingerprint access is great for a business that needs a bit more security than a keypad or a card access system. This type of access control uses a person fingerprint to match them to a profile that has all the info on which doors they can unlock. These can be set up on singular doors or can be set up in a multi-door setup.
Card Access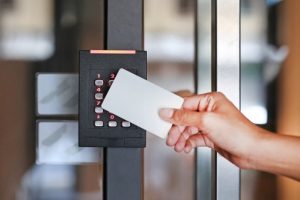 Card access is a nice compromise between keys and monitored access. You can allow some key cards to open certain doors but not others or let them access all the doors. They can be cheaply replaced. Any lost cards can be disabled from accessing any doors.
Pros:
Cheap to replace cards
Can be assigned to open multiple doors
Adding people to the system is fast and free
It takes skill to bypass
Can track where people have been for security reasons
Can be set to only allow access at certain times
Cons:
Cards can be cloned
Cards can be stolen
Requires power to work
Can have exploits if not updated
Hard to install and setup
Who's this for?
Card access is great for businesses that need to give access to multiple doors without compromising on security. This type of access can be used for small businesses to large corporations that need to have restricted access to certain areas.
We hope you found this article helpful and informative. If you liked this article you should take a look at some of our other blogs.